---
---
  Actionclub Natural bamboo laptop table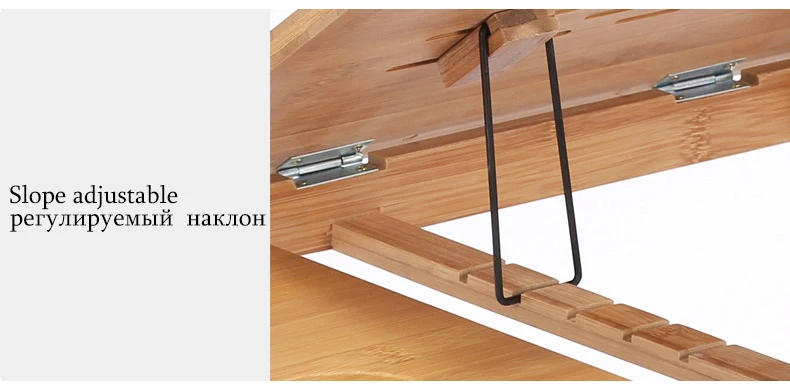 ---
The table corresponds to its value. There were small remarks: the emphasis on the hinged lid was rough, processed sandpaper.
Quality is quite consistent, delivery in Moscow is less than a week. I took 2, in case that is not so, to put on, but both tables norms.
Baldera table, I'm very pleased! It is confident, there are no rusty parts, there is no unpleasant smell. Even a large seven-inch laptop is placed. Although the edges hang, but stands on the legs, and ventilation is no worse than on the usual table. The only thing, I would like a cord for fans to have in the kit, the way even the price would be a little more expensive. But in general everything is fine!) It turns out that the cord in the kit was, did not immediately find))) Well, if you pull the legs, then over time they crawl back, you have to adjust the new one. Well, this is a trifle, in general everything is cool)
The table came very quickly, probably in a week. The quality is excellent, bamboo smells a little, but not Chinese, but something incomprehensible, like vinegar-but quite slightly. The table is strong, the legs are screwed on iron screws with a wrench, you can adjust the length of the legs with plastic clips. The height of the table top is adjustable by the stand, there is a notch for the Cup, a place for the mouse and a small box for small items such as flash drives. The fan connects to the computer via USB, has not yet connected, but I do not need it, if it does not work-I will not be upset, it will work-cool. A small minus-crooked attached one of the loops that keeps the lifting table top, but it's not critical, just a little tugovato rises and falls to the end. Everything is fine, I'm happy with a bargain quality purchase and fast delivery from Russia! Now you can work on the computer in bed and in the chair, without straining the back))) Thank you very much, I advise everyone this seller and the goods!